I've seen all sorts of test cases for ChatGPT, with some responses being good and some bad. Just for the heck of it, I thought I would ask it for some serious financial advice:

With $xx in an RRSP and a current pension of $yy per month, when is the best time to take CPP? I am zz years old.
The answer was amazingly insightful, and pretty much matched up with my own thoughts.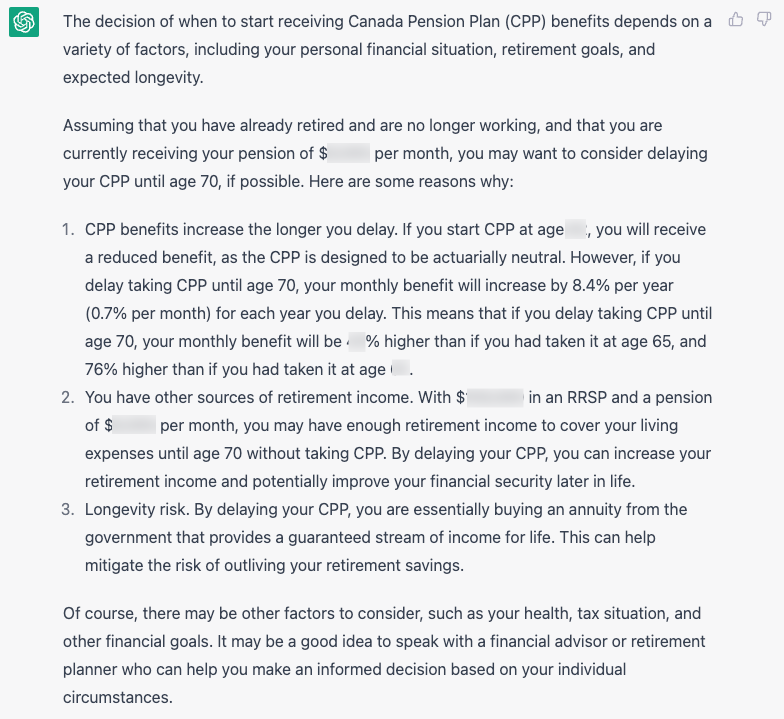 If you're in a similar situation, why not give ChatGPT a shot and see what it recommends. Remember though that it's free advice, and shouldn't be acted upon without a good knowledge of your financial situation and perhaps corroborating advice from your personal banker.
Your thoughts? Would you trust this advice?
What is ChatGPT?
ChatGPT is an artificial-intelligence chatbot developed by OpenAI and launched in November 2022. It is built on top of OpenAI's GPT-3 family of large language models and has been fine-tuned using both supervised and reinforcement learning techniques.
ChatGPT is available at https://chat.openai.com.