Spammers just aren't very smart.
I received a phone call from a friend concerned that her credit card was being charged for an antivirus program she no longer used. I asked her who the email was from and she replied it was from a cryptic Gmail account. No reputable business would send customers emails from a Gmail account. Yes, some small companies might use Gmail, but certainly not companies like McAfee or Norton.
Coincidentally, here's an email I received a day or two after my friend. There were so many red flags I thought it would be interesting to share.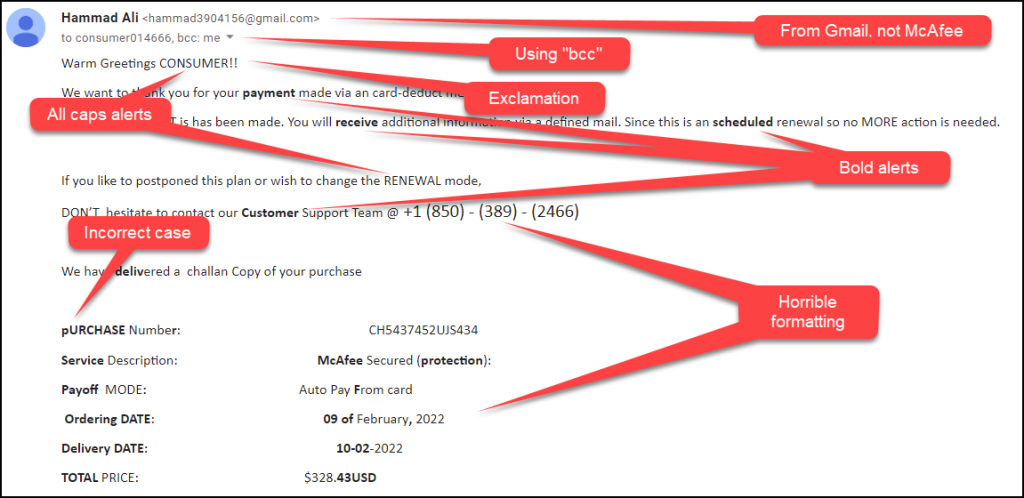 If you ever get an email you are unsure about, look for these giveaways:
Did it come from an email address associated with the company? If not, it's likely spam.
Does it hype up the email with exclamation marks, use of bold lettering, or all-caps? If so, it's likely spam.
Is the email sent directly to you or did you receive it because it was bcc'd (blind carbon copy) to you? If it was bcc'd to you, it's likely spam.
Lastly, is the formatting professional? If not, it's likely spam.
Are there any dead giveaways I've missed? If so, let me know in the comments below!